" The Emissary" is now on the shortlist for the National Book Awards!
NBA Longlist
https://www.newyorker.com/books/page-turner/the-2018-national-book-awards-longlist-translated-literature
New York Times
https://www.nytimes.com/2018/09/20/books/review/nobel-prize-literature-critics-discussion.html
The Japan Foundation Awards
Every year since 1973, the Japan Foundation has presented the Japan Foundation Awards to individuals and organizations that have made significant contributions to promoting international mutual understanding and friendship between Japan and other countries through academic, artistic and other cultural pursuits. This year marks the 47th year of the awards.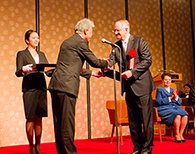 https://www.92y.org/event/yoko-tawada-and-tatyana-tolstaya
ACLA / UCLA
 https://www.acla.org/program-guide#/calendar/1#
Friday, March 30, 2018 Stream A (8:30am – 10:15am) Humanities A30
A Detour Around Area Studies in the Company of Tawada Yōko

Brett de Bary, Cornell University

"Das Meer ist ein Monster und der Mensch ist ein Monsterbaby": Posthumanist Poetics in Yoko Tawada's Recent Ecocritical Texts

Annegret Marten, King's College London/Humboldt Universität Berlin

Of Animals and Humans in Yoko Tawada's Memoirs of a Polar Bear

Hiltrud Arens, University of Montana

Yoko Tawada: Cutting, Gluing, Collecting

Bettina Brandt, Pennsylvania State University (Penn State)

Time as a Globe or (new) Border in Tawada Yōko's novels

Dan Fujiwara, Université Toulouse-Jean Jaurès (University of Toulouse-Jean Jaurès)

Friday, March 30, 2018 Stream B (10:30am – 12:15pm) Humanities A30

The Music of Transmigration in Yoko Tawada's Etüden im Schnee

Suzuko Mousel Knott, Connecticut College

Reference, Rhythm and Rhyme in Tawada's Poetic Time

John Kim, University of California Riverside (UC Riverside)

Tracing the Continual Present: Yoko Tawada and Vilem Flusser

Gizem Arslan, Southern Methodist University

Voice in the work of Yoko Tawada

HyeJeong Son, University of Tokyo

Walking Cities Walking

Keijiro Suga, Meiji University

Saturday, March 31, 2018 Stream A (8:30am – 10:15am) Humanities A30

Between Nutrition and Appropriation. The Poetics of Food in Yoko Tawada

Sabrina Jaromin, Northwestern University

Yoko Tawada's Radiation Nation

Doug Slaymaker, University of Kentucky

Words That I Swallowed Whole: The Linguistic Edibility of Tawada's Writings

Tingting Hui, Universiteit Leiden (Leiden University)

Yoko Tawada's Poetics on the Threshold of Different Writing Systems

Sigrid Weigel, Zentrum für Literatur- und Kulturforschung Berlin (ZfL Berlin)

Saturday, March 31, 2018 Stream B (10:30am – 12:15pm) Humanities A30

Womanhandling Language: Feminist Translational Identity in Yoko Tawada's Überseezungen

Madalina Meirosu, Swarthmore College

Vision, Visibility, and Translation in Tawada Yoko's 'The Travelling Naked Eye'

Victoria Young, University of Cambridge

Inside-out: language, body, and narrative perspective in Tawada Yoko's two novels

Tomoko Slutsky, Princeton University

Sprachmutter: The Death of the Mother Tongue

Paul McQuade, Cornell University
Tawada and Bernofsky win inaugural Women in Translation Prize
Memoirs of a Polar Bear Audio CD – Audiobook, MP3 Audio, Unabridged
Books by New Directions
https://www.ndbooks.com/author/yoko-tawada/
New York Times
http://www.nytimes.com/2016/11/25/books/review/memoirs-of-a-polar-bear-yoko-tawada.html?rref=collection%2Fsectioncollection%2Fbook-review&action=click&contentCollection=review&region=rank&module=package&version=highlights&contentPlacement=12&pgtype=sectionfront&_r=1
https://www.nytimes.com/interactive/2016/10/30/magazine/yoko-tawada.html?_r=
YOKO TAWADA
Yoko Tawada was born in Tokyo in 1960, educated at Waseda University and has lived in Germany since 1982, where she received her Ph.D. in German literature. She received the prestigious Akutagawa Prize for The Bridegroom Was a Dog. She writes in both German and Japanese, and in 1996, she won the Adalbert-von-Chamisso Prize, a German award recognizing foreign writers for their contributions to German culture. She also received the Goethe-Medal, an official decoration of the Federal Republic of Germany and the prestigious Kleist Prize (2016).
E-Mail-Address: tawadaoo@yahoo.co.jp
###################################
Writer-in-Residence in USA

1. Villa Aurora, Pacific Palisades Oct.-Nov 1996
2. M.I.T. Boston Feb.-May 1999
3. University of Kentucky April 2004
4. Deutsches Haus of New York University Nov.-Dec. 2004
5. Washington University in St.Louis March-April 2008
6. Stanford University Feb.2009
7. Cornell University April 2009
8. DAAD Distinguished Chair in Contemporary Poetics in NYU's Department of German 2015
---